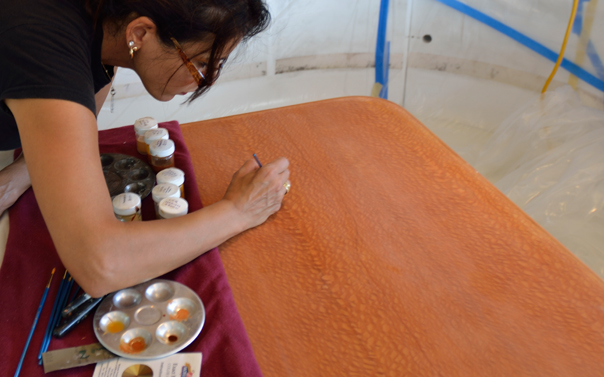 Repair and restore your yacht's interior and furniture with the experts from Dynasty Restoration.
The appearance of scratches, dents and chips to your yacht's wood and interior can devalue your watercraft and can be viewed as if the yacht is neglected or unmaintained. But the damage is largely visual—and thankfully, we can repair a wide range of damages caused by impacts., water, humidity, sun, wear and tear and other factors.
Professional restoration and maintenance by the skilled artisans at Dynasty Restoration is trusted by leading captains and owners and yacht builders throughout South Florida and beyond.
SPECIALISTS IN YACHT WOOD REPAIR
Yacht wood repair and restoration is a primary focus at Dynasty Restoration. We bring the expertise and tools necessary to restore your yacht to its true original state. From a small scratch and dent to complete refinish, we pay attention to every detail along the way. We carefully choose the materials, match the color and grain to perfection, then apply clear varnish top coat to match the sheen and ensure long lasting repairs.
Our reputationattests to the quality and timeliness of our repair and restoration services. View our gallery to see the transformations we have made possible. Imagine what touch up repair and restoration could do to makeover your yacht interior and the instant visual impact it has on yacht owners, guests and potential buyers.
Water & Fire Damage Repair
Water damage and fire damage are two of the most devastating events that can affect the wood interior of your vessel. Dynasty Restoration has extensive experience in restoring water– and fire-damaged wood surfaces and wood furnishing on luxury yachts and mega-vessels.
Dynasty Restoration possesses the knowledge and skills to repair your yacht interior and yacht furniture damaged by water or fire, from small touch-ups to complete refinish.
Call upon our skilled team to restore the most exotic veneers and wood furnishings. We can return your yacht to its original luxury and splendor.
COMPLETE TOUCH-UP SERVICES
Wood Touch Up
Fabric Touch Up
Vinyl & Plastic Touch Up
Stone Touch Up
Wallpaper Touch Up
Contact Dynasty Restoration for professional yacht touch-ups and repairs.