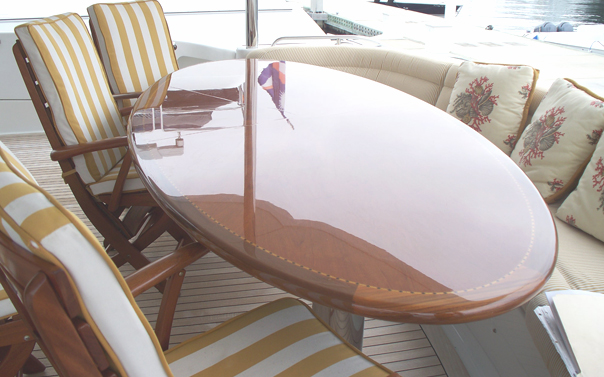 Among the most common, yet challenging projects on luxury yachts, can be wood and furniture painting and finish restoration.  To maintain the integrity of beautiful interiors requires expert craftsmanship, in depth knowledge of up to date finishing products suitable for the yachting environment, attention to detail, and years of experience.  We pride ourselves in possessing the skills and expertise required to deliver the perfect finish while maintaining an on-time project management.
Dynasty Restoration delivers professional painting and finishing services for yachts and mega-vessels using only the best quality paints and varnishes made specifically for yachts and marine environment. Durability, sheen, color-matching, preparation and proper application, these are just a few of the many considerations learned over a decade serving the marine industry.
HIGH-END YACHT WOOD FINISHING & REFINISHING
On-Site Refinishing
The quality of our detailing services is built upon our attention to the smallest details, ensuring superior results every time. It begins with expert preparation of the interior—including tenting, building air tight containments to avoid over-spray, masking using the right tape to avoid damages, and using on site ventilation systems to protect all surrounding surfaces, fixtures, furnishings and windows, as well as ensuring the safety of all those on board.
For professional refinishing of yachts or sailboats, Dynasty Restoration brings extensive knowledge of techniques and marine products. Our artisans and master finishers can revitalize your luxury watercraft, restoring water damage, milky finish, deteriorated finish, discoloration and a multitude of other finishing issues.
Shop Refinishing
For those items that can be removed and refinished off site, we have a state-of-the-art spray booth where we can prepare and refinish your items from small accessories, rails, night tables and coffee tables, to fifteen (15) feet tabletops
Interior & Exterior Refinishing
Whether your project involves an interior piece of furniture or an exterior aft deck table, we have the perfect product to match the finish you desire.  We can customize any finish to your liking and match any color and sheen. This includes super high gloss-mirror like urethane finish for interior or exterior application.
STAINING & FINISHING HIGH-END WOOD INTERIORS
We specialize in yacht wood staining and finishing, and yacht furniture repair and finishing. Accentuate the high-end wood and exotic veneers on your yacht with our wide range of staining options. We will match any color and sheen you need.  Alternatively, you may simply rejuvenate the wood aboard your vessel with the yacht wood buff and polish services provided by our professionals.
Does the current finish appear milky or cloudy?
Disappointed by the finishing job another company has attempted?
Dynasty Restoration has solutions to repair any poorly finished surfaces, including crazed finishes, delaminated or discolored finishes. A quality finish maintains the integrity and beauty of your yacht's wood furniture and interior. Performed right, quality finish work can protect your yacht for years to come.
YACHT DAMAGE REPAIR AND PREVENTION
Damage caused by wear and tear, water, sun, natural aging, or other vendors working on your yacht, can be remedied and repaired to preserve the item's original beauty. With our expertise, your options are numerous to revitalize high-end wood interiors inside your yacht or luxury boat, from small dents and scratch touch-up to complete refinish.
Once damages are repaired, we can customize solutions to protect your furniture, floors and other surfaces from further damage.
Dynasty Restoration. The Leader in Marine Wood Repair & Refinishing For Yachts & Luxury Vessels.
Dynasty Restoration is a licensed and insured, Gold Star-rated company that focuses entirely on luxury yacht restoration and refinishing. We are dedicated to the beautification of luxury maritime vessels.
Exotic and high-end woods aboard your yacht are central to our best practices in repair. The expert Artisans at Dynasty Restoration have the experience and knowledge to treat your maritime haven with the highest quality of care that your yacht deserves.
Contact Dynasty Restoration for yacht refinishing and painting services.