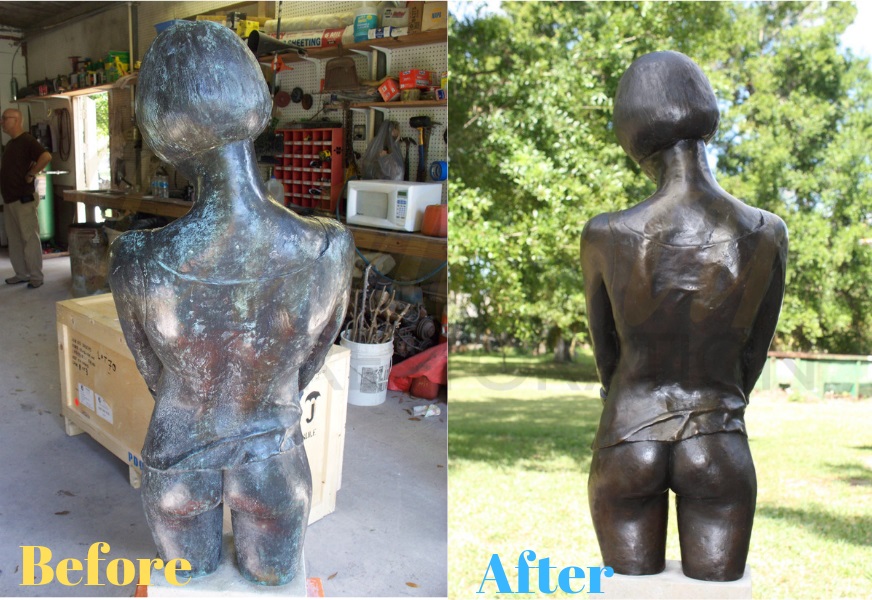 Aboard yachts or mega-vessels, fine art, sculpture, glass art, antiques and other artwork often experience different levels of wear and tear. Environmental factors, like wind, sea water, humidity, sunlight and physical impacts, may take their toll at a more rapid pace.
Restoring art and fine furnishings is how Dynasty Restoration first began as a business. Our process involves careful assessment, meticulous artistry and proven process for how and where various metals, woods, paints, canvas, paper or photography will be restored. This process includes white glove handling during all stages of the repair.  When a piece must be uninstalled, so that the work is performed in our secure workshop—away from disturbances and environmental contaminants—expertise in handling fine art is essential.
Cleaning, Conservation & Preservation of Fine Art and Antiques
Dynasty Restoration's goal is to return a piece to its original state, the way the artist had intended it to be. Some items, like bronze sculptures and antiques, feature a patina or other elements that make them so exceptional. We have the skills and experience to restore your art to its original form to keep its integrity and value.
Preserving antiques is an artform in itself. Dynasty Restoration has expertise in antique conservation to remediate past damage and preserve the value of antiques. We accomplish this by applying the right finish to match the original and limiting natural causes for deterioration and corrosion.
Regular cleaning of artworks and antiques is an important part of maintaining the item's integrity over time. Once restored, we encourage clients to schedule reasonably consistent cleanings, performed by true professionals, like the artists at Dynasty Restoration.
Unique Specialization
Recognizing and respecting the craftsmanship of past artisans, Dynasty Restoration works diligently to restore your antiques to their original splendor. Professional restoration and repair require extensive knowledge of specialized techniques and materials spanning decades or even centuries.
For the repair of your yacht's fine art, sculpture, antiques and artwork frames, Dynasty Restoration applies unique knowledge, skills and tools while adhering to museum quality standards.
Contact Dynasty Restoration for the preservation and conservation of your antiques.